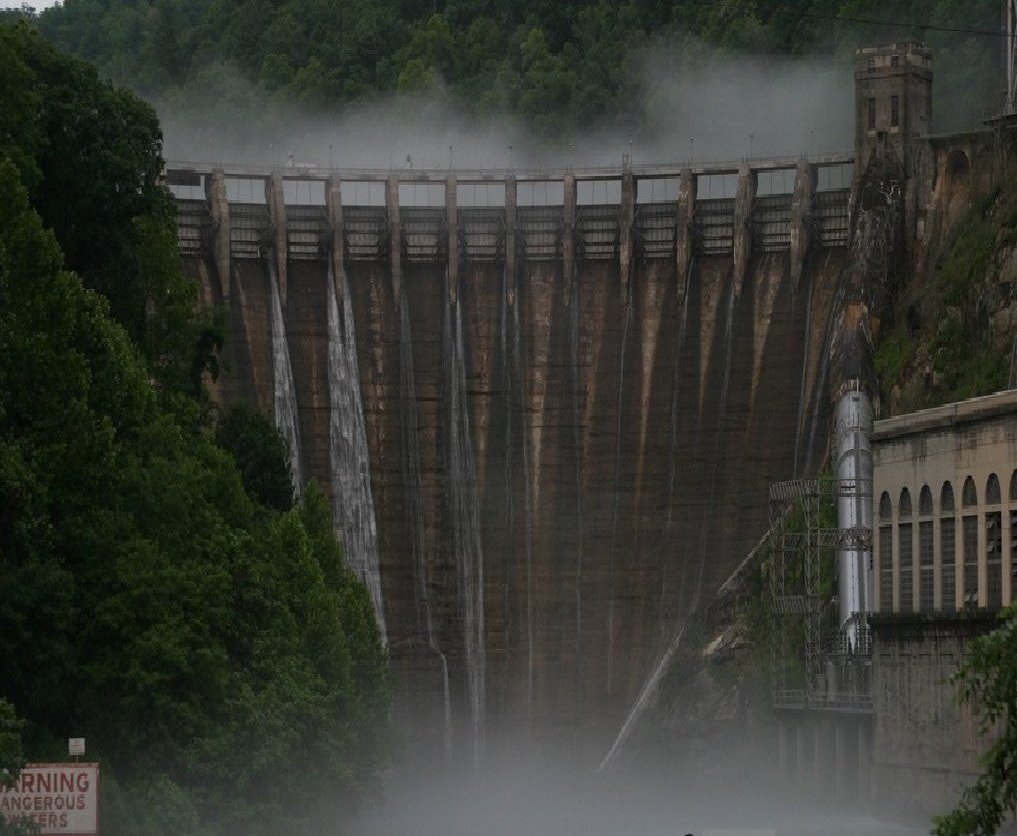 Submitted By: "Mo' Money"
Date of Ride: May 22nd - May 27th, 2009
If I were to say that the weather was great. I would be lying. We started out on that Friday and as we left the gas station it immediately started to rain. The rain seemed to stick with us for nearly the whole trip. Rain gear was the attire of the day. With Edwin, President of LAMA Ft Lauderdale in our chase vehicle providing support in case of emergency, it made you think, "maybe that was the way to go". "No Way!!" It seemed lke a very long ride this year just to reach Atlanta the first leg of our journey, but what a challenging day having to travel in such weather. Needless to say it puts your skills to the test and remember, it's all about the ride.
We finally reached Atlanta and settled into our room. Room Service sounded like a great idea. We had had enough of the rain and we were looking forward to getting a good night's rest for the second leg of our journey in order to reach our ultimate destination, Fontana Village Resort in North Carolina. Fontana is located just a few miles from the Deal's Gap AKA "Tail of the Dragon".
The morning brought hopes of some reprieve from the rain, but our hopes were soon short lived. The rain gear came out again and we continued in the rain. Reaching the Smoky Mountains sometime about midmorning, it seemed as though the mountains were keeping the rains in the lowlands and fair weather greeted us as we approached the Tennessee and North Carolina Borders. We bumped into LAMA Atlanta at a McDonald's and joined them for the remaining miles to Fontana. There was the occasional misting as we approached Fontana, but once we arrived the rain thankfully stopped for the remainder of the afternoon.
The "weenie biting contest" and the "slow race" went on without a hitch. Music, dancing, BBQ, soft drinks and beer were being enjoyed by all present.
The LAMA National Ride took place Sunday morning with our destination being "Ghost Town Harley Davidson", a Harley dealership nestled in the mountains which I guess normally isn't too crowded. Hence the name "Ghost Town".
Led by Mario Nieves, our Founder, about 400 Brothers and Sisters from LAMA Chapters all over the USA, rode in staggered formation with several chase vehicles in tow. Quite an impressive site if you have not witnessed anything like this before. If I had to guess the string of bikes were somewhere between a mile to two miles long. We attracted plenty of attention, stares of bewilderment, some thumbs up and the occasional picture taker as cars drove by us and we rode by cars. It rained for most of the trek to Ghost Town. Have I mentioned that we had rain during this trip?
Upon our arrival to Ghost Town Harley, we were greeted by the friendly Dealership Staff and served a complimentary lunch. Good BBQ Pork and Chicken was enjoyed by all. Prizes were awarded from Harley and even a Tatoo Contest took place with some close competition happening between the participants.
That evening the National Awards Dinner took place at Fontana Village. Lots of Music, Dancing, Good Food and Fun. Awards and Trophies were given out to chapters and individuals in several categories with LAMA Orlando taking home more Awards than any other chapter including the Award for having the most members present at this National Rally. LAMA Orlando had a whopping 70+ members present. Impressive numbers that set a benchmark for other Chapters wishing to capture this particular Award next year.
Among some of the many Awards presented were Awards for most miles riden to get to the Rally for both male and female members. Awards for the most documented miles in the course of a year, and awards for the most mileage documented by a Chapter as a whole.
There was also an Award for the "Event of The Year" which went to LAMA Tampa. Their Anniversary Party this past February is going to be a tough act to follow.
After a cup of coffee Monday morning, we decided to join LAMA Tampa for a ride through Deal's Gap and the "Tail of the Dragon".
We stopped at Fontana Dam for some sightseeing just prior to hitting the Dragon. The scenery was very spectacular and the dam is quite large.
Fontana Dam is the tallest concrete dam east of the Rocky Mountains. At 480 feet in height and 2,365 feet across, the dam impounds the Little Tennessee River forming Fontana Lake and produces hydroelectric power. Construction of Fontana Dam began in 1942 and was completed in 1944. Fontana provides 238 miles of shoreline and 10,230 acres of water surface for recreational activities. The average annual rainfall at Fontana is 57.8 inches. Fontana helps control the flooding that in the past inundated areas as far away as Chattanooga. Fontana has a flood-storage capacity of 513,965 acre-feet. The water level in Fontana Reservoir varies about 52 feet in a normal year. The nameplate generating capacity of Fontana's three units is 293,600 kilowatts of electricity.

Tuesday was our day to depart this Mountain Wonderland. I led a group of 6 bikes and a chase vehicle down the mountains through some of the most remote wet roads that I have ever encountered to date. We traveled down through Rte 60 a little longer than intended as we missed a turn that would have certainly shortened our trek through this remote section, but as "Big G" from Tampa stated, "It was a stretch of road through the mountains that I do not regret having riden on". It truly was a very scenic and adventurous ride that will not be soon forgotten. As we got back on the major Highway we reached Atlanta at a time of day favorable for simply riding right through downtown rather than taking the bypass. This saved us many miles and helped to make up some of the time that we had lost traveling slowly through the mountains.
Somewhere down near south Georgia we were hit by another bad storm which forced us to seek shelter for a couple of hours until it passed. We ended up at some little bar and grill. As we pulled up to the bar. we could hardly see a thing due to the heavy downpour of rain, we parked our bikes under the front awning until it opened. It was closed when we arrived. What luck, huh?
Well our luck did change as Monica the bartender decided to open up early and let us in to dry off. Well, after a beer or two and a few games of pool, two hours later we mounted our bikes and continued on.
We stayed at Fontana Dam long enough to snap a few pictures and buy a few T-shirts and continued to Deal's Gap and the Tail of the Dragon. As we arrived at the Dragon it started to rain AGAIN so we took a break and had lunch in order to pass some time and to give the rain a chance to let up. It really never totally dried out and our eagerness to tame the Dragon got the better of us. With it's wet slick conditions, it's undulating twists and turns the Dragon tried to claim victory but we were infallible, we came out the other end of the Dragon victorious and we were rewarded with sunshine and fair skies. The Dragon had been slayed again. Another break was necessary to remove all of our rain gear that we had put on prior to entering the Dragon. A few more pictures, a few more laughs and we continued on to the Cherohala Skyway.
The Cherohala Skyway was completed in the fall of 1996 after being under construction for some thirty-four years. It is North Carolina's most expensive highway carrying a pricetag of $100,000,000. Winding up and over 5,400 foot mountains for 15 miles in North Carolina and descending another 21 miles into the deeply forested backcountry of Tennessee. The road crosses through the Cherokee and Nantahala National Forests thus the name "Chero...hala". The Skyway has become well known in motorcycling and sportscar circles for it's long, sweeping corners and scenic views. It can be desolate at night and extremely dangerous in the winter months. There are no facilities other than restrooms for the entire 36 miles and there is little evidence of civilization from views that rival or surpass any from the Blue Ridge Parkway.
Even in the summer months it can be cold and cloudy riding the mountain ridges, so we made sure we were dressed properly. We were caught in pea soup fog, thick clouds, and bone chilling temperatures. I saw the most incredible rainbow I have ever seen. It was totally formed from one side to the other and was clearly visible stretching across the mountain valley, unfortunately, I could not stop at the time to take a picture but it is one that will not leave my mind's eye anytime soon. The Cherohala, with its sweeping curves, tempts you to ride fast, the occassional tight curve is sure to surprise you in an effort to catch you off guard. There are more deaths on the Cherohala than on the Dragon itself. Many of the worst curves have guardrails that you really don't want to hit. Emergency help on the Cherohala can be 45 minutes away and then 30 minutes on a helicopter. This is a ride we took with extreme respect and caution, especially with the wet conditions we encountered.
We ended up in Valdosta, Georgia which is right at the border of Georgia and Florida. We spent the night at the Motel 6 and got some badly needed rest. The following morning we got up and continued onward, but sure enough, there was one more storm to contend with. But this time, since we were in Florida which is relatively flat, we could see this one coming and shot into a Denny's for shelter and some lunch. I think it was a miracle we didn't really get wet that day. Eveyone in our group got home safe and the memories that we brought home with us were priceless. This truly was the best National Rally to date and it appears that it is going to continue to improve. Next Year's venue for the National Rally appears to be Virginia Beach, Virginia. Look out Virginia, here comes LAMA. Ride on!!