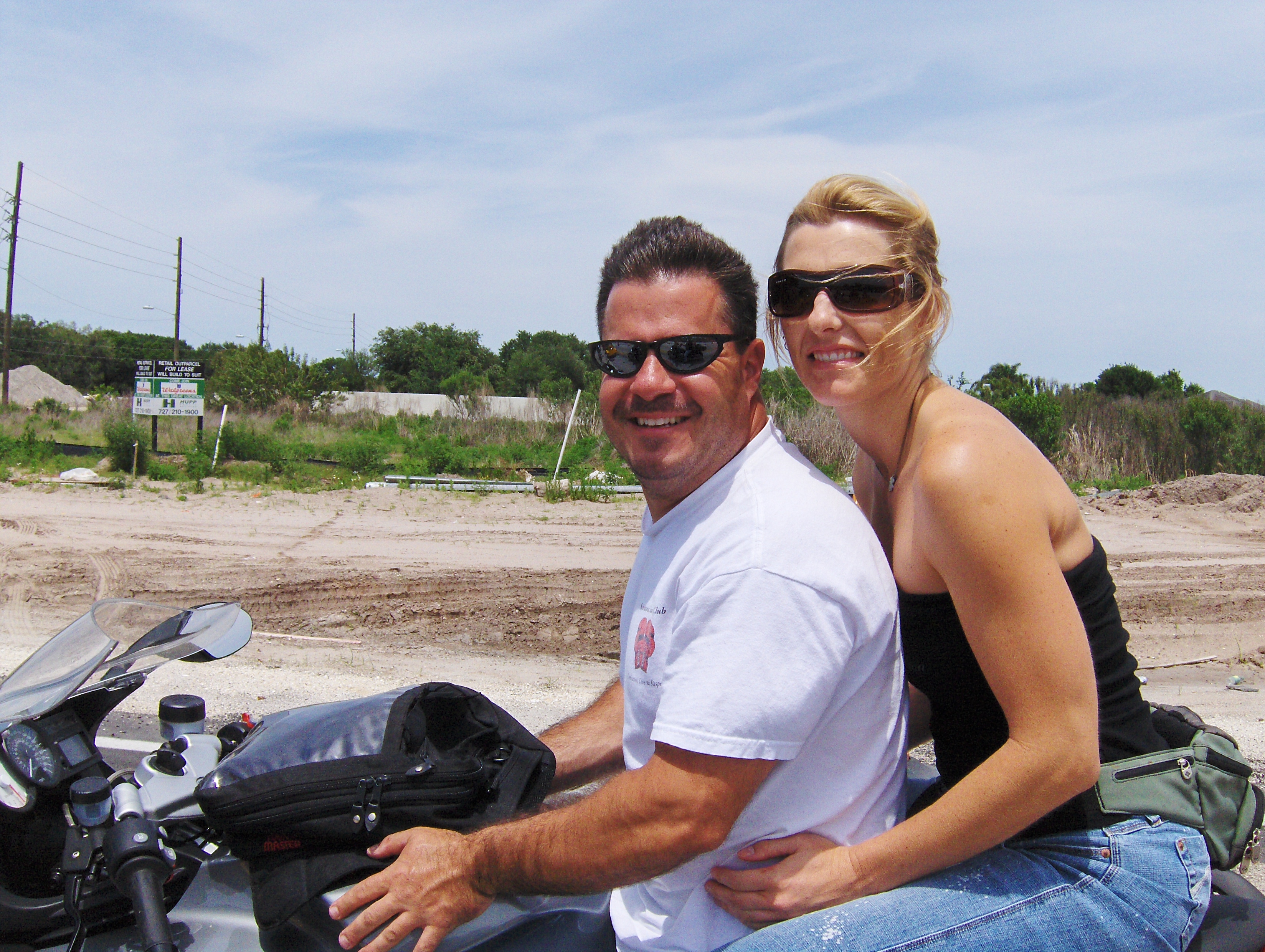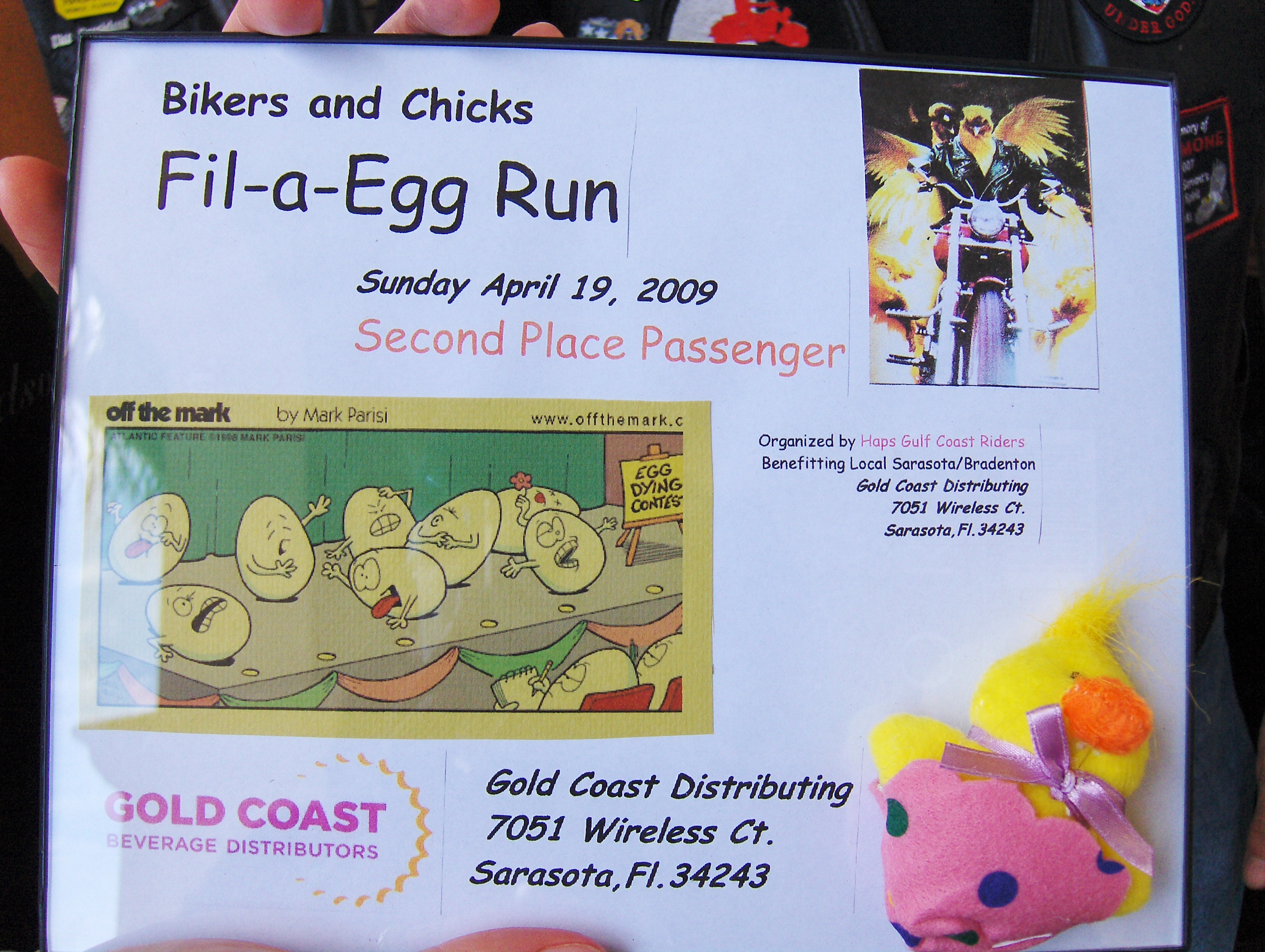 Submitted By "Tuscadero"
Date of Ride: 4.19.09
"Sunday was just an extention of how good things went Saturday at the Puerto Rican Festival. Mo' Money & I met at the Radiant Gas Station on Bee Ridge, had enough time to sit and have a conversation and a cup of coffee. Out of nowhere about 8 or 9 beautiful street bikes roll in, CBR's, GSXR's and a couple Hyabusa's. Tricked out and shiny. We were just leaving so I only had a chance to glance at the bikes, riders, passengers and passed out a couple cards. (Mo' Money teased that I might have thought I joined the wrong club, but I know I've made the right choice). They were from Ft. Myers and heading to Tampa for a ride. They were a nice mix of nationalities and said they'd look up our LAMA Sarasota website.

Rode to Hap's Honda for the Rally, enjoying the warm sun and fresh air the whole way. Had a good time joking with the folks working the registration table, got signed up and off we went.

At Hap's Honda and later at the first check point, I met Rob and Carrie (pictured above), a couple on a sweet BMW Bike, so I invited them to ride along. Gave Rob a quick instruction on the 2 second stagger rule and also about keeping in his lane and then we hit the road. He rides great. Good control and awareness of what's happening around him. I felt comfortable with him on my right front within a couple miles.

Managed to have my sunglasses blow off and that separated me from the group. By the time I got turned around and picked up the glasses, Mo' Money and the BMW couple were on their way back to see what had happened. I was the brunt of some good hearted humor and well deserved ribbing.

Then my hat blew off going around the next corner....sigh...told the couple to let Mo' Money know that I was okay, was going to turn around (again) for the hat and that they should go on ahead and catch up to the rest of the group. I'd see them at the next check point.

This turned out to be the best thing that could have happened to me. I got to cruise at my pace and enjoy the scenery. Beautiful day, beautiful country side, beautiful...what?!? There's a bike down on the side of the road, the passenger is sitting with her head in her hands and he's down on the roadway side of the bike. My heart about jumped out of my chest when I first saw them, by the time I pulled over I could see they were alright, thankfully.

Turned out it was staged as a test to earn points on the rally. A total of three people stopped to help, one rider that was not with the rally, one other lone rider and myself. Don't believe me? Hey, I got the fluffy yellow chickie in a leather jacket to prove it! (See picture above)

It's really not that remarkable, it's what LAMA Sarasota does without a second thought. When they say "No Brother or Sister will ever be left behind", you can count on it.

Gonna go out and run the same roads again soon. "Anyone care to join me?"

Only 3 days, 1-1/2 hours 'till Leesburg....