LAMA TAMPA is in Mourning
Edgar Gonzalez
R.I.P.
August 17th, 1977 - March 6th, 2010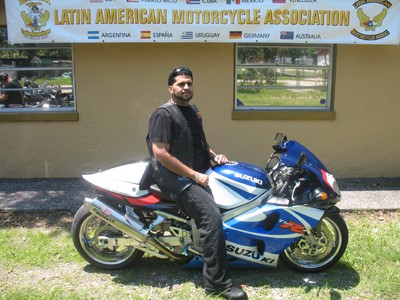 LAMA Tampa is extremely saddened to report that our Brother Edgar Javier Gonzales, affectionately known as "Biscocho", passed away on Saturday, March 6th, 2010, while riding with some of our brothers from Orlando to Daytona.

Edgar joined our family on 2009. He initially joined as an Associate, thinking that he may not have the required time to be a full member. Even so, he rode with LAMA Tampa pretty much all the time. He came to most of our events, spent time with us at the clubhouse, and helped whenever he could. A few months later, he decided to join as a Full Member, and became a Prospect. And during our last meeting, held this past February, he received his Full Colors. He was so proud of that moment that he shared it with several of us, always wearing that infectious smile of his on his face.

Edgar, you will always be missed. Your smile and your laugh lit up the room when you walked in. May God bless you, and your family. May the angels be with you, riding along side in the highways of Heaven. And may you Rest in Peace, BROTHER.
Courtesy of LAMA Tampa www.lamatampa.com